If you're interested in photography, there are three weekly photography projects that run on PODcast. What's The Story? concentrates on the story behind a photograph whereas the Alphabet Photography Project and the Black and White Photography Project focus on pushing creativity. Whether it be developing new specific skill sets, taking a different perspective or learning new techniques.
The Alphabet Photography Project #alphabetphoto 
The Alphabet Photography Project kicks off again on January 14th 2015. Each week's letter can be interpreted in any way you choose. It might be a photograph of an object, an adjective or a visual representation of that letter.
You can link up a post every Wednesday until the following Tuesday. On Instagram just use to tag #alphabetphoto (PODcast is here).
You can also share your post in the Pinterest and Facebook groups and in the Google+ community.
If you love monochrome, the Black & White Photography Project is right up your street! All you need to do is link up a post featuring a black and white image/images. The Linky is open from Sunday through to Saturday. Alternatively you can just join in on Instagram with #bwphotoproject (PODcast is here).
If you're looking for some tips on taking better black and white photographs, this post is super handy. Also worth checking out posts on inspirational photographers like Nick Brandt and Ansel Adams with more to follow.
You can also share your posts and photos in the Black & White Photography Project Facebook Group.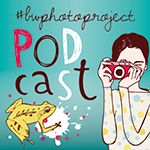 What's The Story? #whatsthestory
What's The Story? is a weekly Linky that enables you to share the stories behind your favourite photographs. It's open every Monday until the following Sunday so there's ample time to get involved.
To join in all you have to do is share your photographs and your story behind them. You can say as little or as much as you like and you can choose photographs from any time too. The oldies are always the best but we love tales behind more recent photographs too.
You'll find the Linky badges on this page of the site. If you'd like to get in touch, you can tweet me @The_Doves or email me at charlydove@podcastdove.com. Happy snapping!