Hello everyone, welcome to week #29 of the Black and White Photography Project. Thank you to those of you that joined in last week, so many amazing images.
After POD's pony ride last time, we seem to have a similar horse-based theme this week! We visited the Devil's Punch Bowl on Saturday. Owned by the National Trust, it's a designated area of outstanding natural beautiful and a great place to blow away a few cobwebs.
The views are absolutely incredible and there are beautiful wild horses there too. It was quite chilly though so we rewarded ourselves with hot drinks and cake afterwards.
How to join in 
To join in with the Black & White Photography Project, just link up a short post featuring a black and white photograph or black and white photographs. The photograph/s can be from any time – both old and new are welcome. You'll find a post on how to create better black and white photographs here.
Don't forget to share on Instagram using #bwphotoproject. You can also share your posts and photos in the B&W Photography Project Facebook Group.
Grab the badge! 
Feel free to grab the #bwphotoproject badge (you'll find a monochrome one here) or link back to PODcast, I'm happy to share your post in return.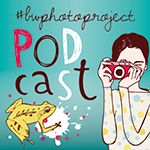 Inspiration on Pinterest 
PODcast now has over 2,500 followers on Pinterest. If you're looking for monochrome inspiration, do check out the Black and White Photography board. It features some incredible photographs from artists all over the World.
Follow PODcast grappling with a box of frogs's board Photography: B&W Photography Project on Pinterest.